Introducing the New Green.eBay!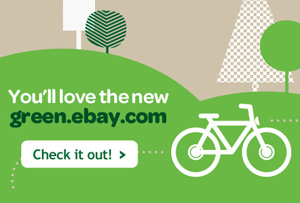 Following a series of new and exciting projects for the eBay Green Team — from the launch of our
Common Threads partnership with Patagonia
to the expansion of Instant Sale to
Germany
and
Canada
 — we couldn't be more thrilled about the year we've had. And 2012 promises even more! In fact, we're starting the new year with a bang: launching this week, a
new and improved destination for all things green at eBay.
The next iteration of Green.eBay.com aims to be a first-of-its-kind site that combines community-generated content, green products and projects, and news about hot-off-the-press programs and partnerships — all designed to help you live a greener lifestyle on a leaner budget. It's our first attempt at fusing our old sites—the content-focused eBay Green Team site and the shopping-focused green.eBay.com—into one comprehensive, informative, and idea-rich experience. 
But don't just take our word for it. Click around and let us know what you think. Start by checking out these cool features:
Sharper category focus: We listened to you, as well as our colleagues here at eBay, and came up with the new product categories you see at the top of the buy tab. We are doubling down on popular eBay categories like fashion, consumer electronics, and home & garden, and layering in a few pages for moms and parents, since we know healthy kids and babies are a priority for our Green Team-ers. Like what you see? Is there a category you'd like to see added? Tell us! We're always happy to hear from you, so write us at greenteam@ebay.com. 
Member-driven content:
That means you! Leave your mark by recommending greener alternatives, sharing your favorite green eBay picks in your own custom-designed eco-shopping list, or suggesting tips and tricks for others to try.
You can start posting today.
Seller resources:
We want to make it as easy as possible for you to sell what you have and give it a new life on eBay.
Check the sell tab
frequently for the latest tips, links and resources, and featured programs that can help you get started or take your sales to the next level. And we'll continue to profile our green sellers here—maybe you'll be next! 
Guest bloggers galore:
Starting with Brad Berman, our new eco-driving expert, and
Zem Joaquin
, goddess of all things ecofabulous, we will be bringing
new green voices
into the fold in 2012. Make sure to let us know who else you would like to hear from. 
New program announcements:
Our blog,
Green Team Talks
, will continue to break news about new initiatives and share the latest developments in existing projects, like our Patagonia partnership and our Instant Sale and eBay Box programs. Think of it as a virtual innovation sandbox – and make sure to follow our RSS feed so you are the first to hear the news! 
A peek behind the curtain:
For the first time, we're compiling all of our green programs, policies, credentials and progress all in one central place. The new
Green at eBay section
of the site is our most comprehensive rundown to date of all our work making eBay a greener place. Come take a tour and see what we've been up to! 
The new site was created with the goal of becoming a resource center, a community hub, and, of course, a marketplace, for our over 300,000 Green Team members—and eBay-ers of all shades of green. Our hope is that the new Green.eBay will become a place that you regularly visit for lifestyle inspiration, and where you can share your favorite green ideas, projects, and products with others like you. 
As with all of our programs, it's the next step in a long journey. Your feedback is important as we continue to build and grow the site and the programs that get featured on it, so drop us a line at greenteam@ebay.com, comment on our blog posts or Facebook page, or send us a note via Twitter. We can't wait to hear from you!