Member Profile: Prosperity Candle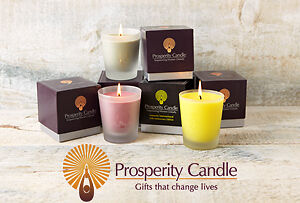 It's hard to believe that something as simple as a candle has the power to do so much. But for social enterprise and eBay Green Seller, Prosperity Candle, candles were the perfect tool to making a positive impact on the world and the lives of women who had experienced conflict and disasters in their communities. With a mission to empower women to rebuild their lives through entrepreneurship, co-founders Ted Barber and Siiri Morley were on the lookout for a product that could be easily made all over the world, at a low cost, and with enough demand that women could not just survive from their businesses, but make a sustainable, permanent change. Candles ended up being that answer.
As Barber explains, that conclusion was not simple. "When we started, candles weren't even on the horizon. We looked at all sorts of products. We wanted to find a product and a business that could scale up and grow quickly to actually raise someone out of poverty." As a member of the World Fair Trade Organization, Prosperity Candle makes sure that their artisans are earning fair wages. However as Barber explains – what they are trying to achieve goes much further beyond that. "It's not just about fair wage…Do you have a product, a business, and a market opportunity with which you can permanently escape poverty?...In our case, we were looking not just to enable someone to survive in the most difficult circumstances, but to actually thrive."
To put the plan into action, Barber and his partners had to figure out how exactly it would work to have women working in different parts of the world, making candles in all kinds of climates and conditions. To test it out, Barber recalls "We ordered a candle craft making kit. It arrived and it was really cheap…but within 4 hours of opening the box, we had made a reasonable candle on our stovetop…So we thought if we upgrade all the components and add in some things, this could work." After adding in a special screen that keeps desert sand out of the wax, shins and levelers to ensure they have a level surface, a double boiler for extra safety, and an entrepreneur's guide book, the kit was complete. The whole process brought that original $30 kit up to a $120 dollar kit with commercial-grade equipment and tools that took it from the level of a kids' craft project to a viable small business.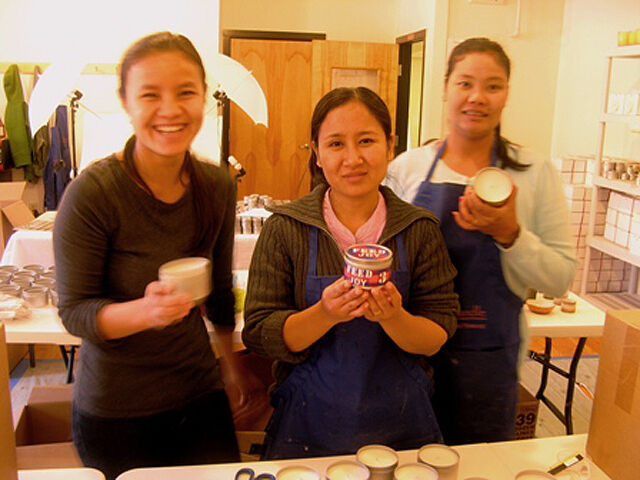 Prosperity Candle Refugee Women Artisans
Starting off in 2009 with a pilot project in Baghdad, Prosperity Candle has since expanded to communities all over the world. After establishing women entrepreneurs in Africa and Vietnam, and even closer to home with refugees from Burma and Bhutan relocated to Massachusetts, they're currently setting up a program in Haiti. Throughout such diverse communities, candles are a common element. They are used in every country and culture so there is a market at home if women choose to sell locally or across the world if they want to export through Prosperity Candle into the U.S. market.
Beyond making a big social impact, Prosperity Candle is also committed to making a small environmental impact. Depending on which materials make the most sense to source for each project, their candles are made from soy wax grown on local, organic farms, beeswax purchased from nearby beekeeping development projects, or high-grade paraffin wax. The scents are made in the U.S. from essential and fragrance oils, and all use natural cotton wicks.
One of our favorite aspects to the candles is that they're meant to last beyond just their life as a candle. Using handcrafted pieces like enamel bowls made in Kashmir or rice bowls from Vietnam, each candle in their artisan collection also supports the artisans that made the holder as well as the women who turned it into a candle. "The whole idea with our artisan collection is that you're buying a permanent piece of art or an artisan gift – it's just that it happens to be a candle first. And we love that idea because it's a gift that endures – it's never meant to be thrown out," tells Barber.