Member Profile: Kingdom Ventures Inc.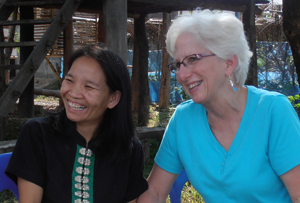 Many of us imagine retirement as a time to hit the golf course and take up new hobbies – or embrace the ones we never fully explored. For high school sweethearts Glenn and Rebecca Fadner, they saw it as an opportunity to give back and do something meaningful. With careers in IT and education, few may have guessed they would end up starting their own business selling fair trade women's accessories and home décor, but it's proven many times over to be the right fit. As Glenn tells it, their requirements were that they were looking for something they could do together, something that would enable them to travel, and something that would help make a difference in people's lives. What has now become Kingdom Ventures Inc. proved to fulfill all three.
It all started when a friend of the Fadners introduced them to an organization in Cambodia helping women rescued from sex trafficking to earn a livelihood producing beautiful, handmade products. Glenn and Rebecca saw their opportunity and decided to support communities like this by importing and selling their products to the U.S. market.
Kingdom Ventures has evolved and now sells a variety of products including eco-friendly products made out of recycled rice bags from Cambodia, baskets woven using fallen pine needles in Nicaragua, and are always on the look out for more unique items. The ultimate goal is to build sustainable relationships with artisan communities and give them a reliable market for their goods. "We really want to help create businesses that will outlive us," explains Glenn. "We are interested in things where the supply is sustainable as well as the process of making it – which will in turn will create a sustainable income for people."
As just a two-person team, the pair handles the entire process from design to final sale, and makes it a priority to visit at least one community of artisans each year. "We have been to every one of our artisan groups – we're now on our second round…Our objective is to have relationships directly with our artisans," tells Glenn. 
While often relying on intermediaries from NGOs or other organizations for communication, the Fadners are starting to communicate directly as many artisan groups are becoming increasingly self-sufficient. "What was really cool is that with our Thai weavers we recently handled the entire transaction directly with them. The daughter of the head weaver was at university studying international business, and so she is now our translator. We email her mother's email account and she passes the emails over to her daughter. We had no native English speakers involved in the transaction at all…That's the kind of stuff that gets us up in the morning," explains Glenn. 
As part of eBay Thanks You, hear about Glenn and Rebecca's journey in their own words: