Member Profile: Coco-Zen Chocolates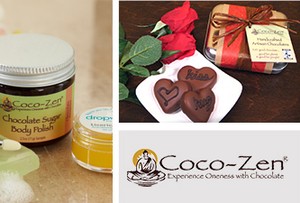 Some of us like chocolate, some of us love chocolate, and some of us can't really imagine a world without. Wherever you fall on the spectrum, Coco-Zen Chocolates is likely to win you over. Their confections are made using organically grown and fair trade certified chocolate, which may not cut down on the calorie count, but definitely makes us even more in love with these delicious, earth-conscious treats.
With a certifiable sweet tooth and curious personality, Joyce Kushner, the mastermind behind Coco-Zen Chocolates, tells of her ambitious "down-time" that spawned her business. "During that first year after our son was born, I found myself with little forty five minute intervals of time between feedings. So I started spending that time playing with recipes in the kitchen...mostly desserts. Since I've always loved chocolate, it was a natural progression to trying all sorts of chocolate concoctions, which then led to truffle making."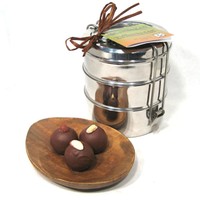 As Joyce's skills progressed, she developed the tasty truffles that promise the state of chocolate induced, Coco-Zen nirvana. To develop the many flavors – including multiple vegan options – Joyce constantly experiments in the kitchen. As she explains, "In the beginning I just started out with flavors that I've always liked with chocolate. However, I love experimenting and trying new things out. It's interesting to see what foods and flavors are paired with chocolate in other countries and cuisines. I also like to go to food fairs and see what others are doing. Inspiration is everywhere." With her husband and friends as taste-testers, Coco-Zen is mostly a one-woman team with Joyce in the kitchen, but around the holidays she'll call in a few friends for backup.
Thinking about the environmental impact of an oh-so-appealing box of chocolates, Joyce got creative with Coco-Zen packaging. Wanting to find a solution that was both reusable and recyclable, she ruled out plastic and paper and settled on steel. Not only are the steel containers strong enough to protect the delicate truffles and pretty enough to serve as gift wrap; they are also reusable and recyclable. Once those truffles are all eaten up (let's face it, that doesn't take long), you can use the shiny steel tiffin box for a healthy lunch on-the-go. When it finally finds its way to the recycling bin, the #1 recycled metal in North America quickly turns into something shiny and new.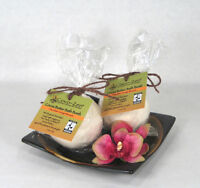 Coco-Zen Cocoa Butter Bath Bombs
Beyond supporting a healthy love of chocolate, Coco-Zen is all about helping the planet and its people. Joyce shares her thoughts on the decision to use organic and fair trade ingredients, "That all goes back to my own personal philosophy that we are all connected and that what we do has an impact on the environment as well as on others, whether we see it or not. Plus, being a parent has made me realize how important it is to really follow through with what you believe in. Not only do we want to leave a better world for our kids, but we also want them to become conscientious and responsible citizens of this world. That all starts with what they learn from us and how we behave."
If you are (gasp) one of those people who doesn't care much for chocolate, Coco-Zen also offers some luscious and rich-smelling chocolate bath products made with organic ingredients. Whether for yourself or your loved one, Coco-Zen offers many paths to "experience oneness with chocolate" – so enjoy the journey to find the one (or ten) that works for you.