Member Profile: Back to the Roots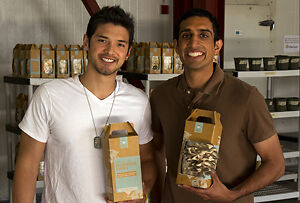 We're quick to love anyone who helps justify our coffee addiction and lower our environmental impact in one fell swoop – so to Alejandro Velez and Nikhil Arora, the founders of Back to the Roots, we're saying thank you. These two graduates of the University of California Berkeley were 2 months from graduating and set to begin careers in investment banking and consulting when they got sidetracked growing mushrooms out of used coffee grounds.
In their business ethics class, they heard that it's possible to grow gourmet mushrooms on recycled coffee grounds. Taking that challenge upon themselves, they tested the idea in Alex's fraternity kitchen and took their one successful bucket of oyster mushrooms to the local Whole Foods and local foodie hotspot Chez Panisse where it sparked some interest. Long story short, they abandoned their corporate world plans to pursue urban mushroom farming.
Starting out by collecting used coffee grounds from local coffee shops (abundant in a college town like Berkeley), the duo began growing mushrooms to sell to Whole Foods and at local farmers markets. As Mai-Ling Garcia, their lead on business development, explains, "When they took [the mushrooms] to farmers markets, they saw that people were way less fascinated with the mushrooms themselves and way more fascinated to the fact that they were grown on coffee grounds, so that's what gave birth to the kit." Thinking beyond their original plan, Velez and Arora came up with the idea to let people farm themselves, creating the Back to the Roots gourmet mushroom kit.
Using a 3 week process to create mushroom spawn in the coffee grounds at their warehouse, Back to the Roots boxes up the fertile, ready-to-grow soil into a cardboard kit that can grow up to 1.5 pounds of gourmet mushrooms. For the foodie with a not-so-green thumb, the kit is pretty low-maintenance. Garcia explains the growing process isn't necessarily about watering or sun at all. "It's not something that requires watering necessarily – but it does require drastic fluctuations to its environment in order to grow. So that's actually what you're doing when you're watering it – or misting it with a spray bottle."

Partnering with Peet's Coffee & Tea, Back to the Roots has collected, diverted, and re-used nearly 3.6 million pounds of coffee ground waste in 2012 alone. While we may notice compostable or recyclable coffee cups, most of us never think twice about the waste from coffee grounds once our pot is brewed. Garcia tells their excitement about reusing the grounds, "You have these coffee beans that people spend tons of time and money cultivating, and then they're literally shipped and used – but [the grounds] are just thrown into the garbage when it has tons of nutrients and beneficial qualities for growing really anything. The coffee grounds balance moisture really well so it's especially ideal for mushrooms."
Here's where the environmental impact and re-use gets even better. After you've already re-purposed those coffee grounds to grow the maximum amount of yummy mushrooms, the cardboard box is recyclable (or compostable depending on your local services) and the remaining soil is very rich in nutrients, making it a great soil amendment in your backyard garden.
If you're not a mushroom-lover (yet), Back to the Roots is also working on other ideas including concentrated, all-natural fertilizer, and even a home aquaponics kit. But don't be afraid to give it a try – as Garcia tells us, anyone can be a convert. "I have a niece who hates mushrooms – but she was really interested to see what happens in the garden – and she ate them! Totally not a lost cause – she's definitely more willing to try things and more interested in growing things."