Auto junkyards greener than you think: B&R Auto Wrecking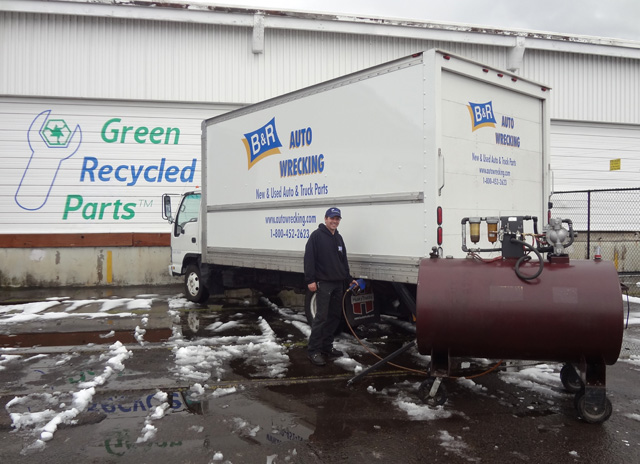 The web-powered operations of B&R Auto Wrecking—headquartered in Corvalis, Oregon—defy long-held stereotypes of auto junkyards and their rugged grease-laden workers.  B&R also blasts away common notions of what it means to be an environmentalist. The national impact of dealing with the steel, plastic, glass and oil found in millions of wrecked cars makes businesses like B&R one of the unsung heroes of the recycling movement."It's second nature to me. I've grown up in it," said Brian Perlenfein, who manages operations for the company.   Perlenfein's father bought a single wrecking yard in 1980, when Brian was three years old. "It used to be a Mom and Pop business. We had 10 employees," explained Perlenfein. "My mom and dad worked 14 hours a day." From those humble beginnings, B&R now has 10 locations in three states and 200 employees.  
But one thing has not changed: B&R's ethos of putting every possible scrap from wrecked autos to good use.  For example, every ounce of engine oil, brake fluid, and power steering fluid comes off the cars and into a furnace that heats the business's shops and warehouses. Gasoline is salvaged from the cars, filtered and pumped back into B&R's fleet vehicles.  B&R collects, reuses or resells the batteries, tires, antifreeze and Freon. B&R's core business is selling used car parts.  
"In the old days, the guy at the counter knew he had a car out by the blackberry bush, but you had to go out there to see what was on it," said Perlenfein.  Today, when car arrives on site, inventory specialists using Palm Pilots enter the vehicle identification number (VIN), and some 400 parts are immediately listed, via a system developed by the Hollander parts exchange and eBay.  "It starts with the front bumper and goes all the way to the rear bumper," said Perlenfein.  "We know what's there without having to list each part one by one."
After damaged items are registered with custom codes, B&R Wrecking is able to see the sellable components like engines, transmissions and door glass, and their related photos.  Within a matter of days, a car is dismantled, and the parts are put into inventory.  "They can go on UPS that day," said Perlenfein. Bottom Line for Mother Earth—cars are crushed only after every part has had a chance to sell. "Even then, we might pull a few more parts before we let it go," said Perlenfein. At that point, the car is crushed and melted down and its core materials are recycled by a third-party outfit. 
This level of recycling would have not been possible before the eBay era. "eBay opened a new marketplace for us.  Before, 90 percent of our business was local. Now we are nationwide," said Perlenfein.   With 200,000 parts typically listed on eBay, B&R Wrecking consistently ranks as one the top five of eBay motors stores.  To respond to the additional customers, B&R created four new full-time positions, two in sales and two more in quality control. B&R now sells about 1,200 parts a month on eBay.  That's 1,200 parts-worth of new materials, manufacturing, and packaging (and all the related emissions) that don't need to be produced from scratch—and that can be saved from landfills. So, how many pieces and parts of B&R's wrecked cars end up in a landfill?  "It's a fraction of a percent," said Perlenfein.
For information about recycled auto parts, fuel efficient vehicles, and more, visit eBay Green Driving.