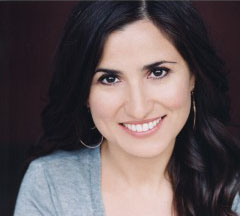 Ecofabulous DIY: Cabinet Makeover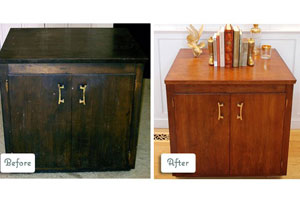 I can get obsessed with my eBay searches but when stalking furniture, keeping it local is best (no shipping charges and less fuel needed to transport).
eBay's local classified site
makes it simple to search for listings in my area and meet up with the seller to view the furniture in person.
I found this well-crafted cabinet for $35 about 40 miles from my house. It was well worth the drive to find out that it was handmade by the seller's father. The piece needed a little TLC but the craftsmanship is excellent – it's made of solid wood, and I love the original brass hardware. What a steal!

Here are the steps I took to convert the cabinet into something fresh and beautiful, while still keeping it's original charm:


Step 1: Prepare the Piece & Surrounding Area I removed the doors and hardware – I originally thought that I might have to change out the pulls, but I realized they were solid brass and could easily be revived!. Laying down a drop cloth, I cleared a surface to prepare to strip the original stain.

Step 2: Strip the Original Stain Using an
eco-friendly stripper
, I applied the material with a paint brush, let it sit for a few minutes, and then gently scraped off the stripper with a flat-edge scraper (sometimes called a putty knife). Depending on the original material, you might need two coats of stripper. I wiped off any remaining residue with a cloth and then let the surface dry fully.
Step 3: Sanding the Wood After the wood was completely dry, it was time for a little good old fashioned elbow grease. I sanded the entire piece to achieve an even surface and to take off the last remnants of the previous stain. I started with a higher grit sandpaper (like 80) and finished with a fine grit (like 220).


Step 4: The First Coat of Stain Before applying the first coat of wood stain, I wiped off the entire piece with a dry rag (I like using old, damaged shirts) to make sure that the surface was free of any dust and particles that might get under the stain and create blemishes. I applied the stain (
a non-toxic, soy-based product
) with a sponge roller and then wiped off the excess with another rag.
Step 5: The Second Coat of Stain After 24 hours I applied the second coat of stain, but this time with a brush, using full, even strokes – you want to make sure that you don't leave any streaks or splotches.
Step 6: Reviving the Brass Hardware While the second coat was drying I set to work on the brass hardware. Using a fine grit sandpaper (220) I was able to sand off all the tarnish to leave a sleek, brushed-metal look. This method is less toxic than using a chemical polisher and I love the textured effect.

Step 7: The Final Gloss Coat After another 24 hours, I brushed on
a low-VOC, water-based lacquer
– again, make sure to use full, even strokes so that you don't have any inconsistencies. The lacquer comes out looking milky, but don't worry – it dries clear (think Elmer's glue).
Step 8: Reassemble & Admire the Job! Once everything was dry I attached the original hardware back on and voila! Instant upgrade. Ok, not so instant – but an upgrade that was definitely cost-effective and rewarding! The natural wood surface is glowing. I love the warmth of the color and the overall style. It went from mediocre to magnificent with a total cost of $70!