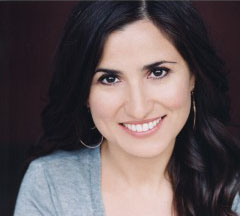 Decked out for the Holidays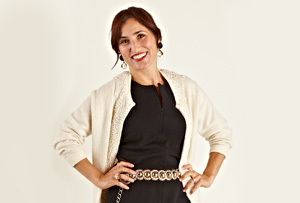 I relish the holidays and all of the opportunities for celebration that they bring. If you don't already have a flattering black dress, it's time! I found dozens on eBay in every price range. One well-cut frock can transition from a work party to a cocktail soiree, right into New Year's Eve… when adorned appropriately. Accessories are absolutely essential. The perfect belt, purse, jewelry, sweater, scarf or shoes can take simple to chic in seconds flat. 
Ring in the season in sustainable style: When buying a new item, look for organic cotton, wool and silk or recycled materials (avoid a combination, however). Alternatively, check the "pre-owned" box when shopping and snag anything from J. Crew to Chanel…after all, the greenest option is often one that already exists! Here are a few of the pics I currently have my eye on: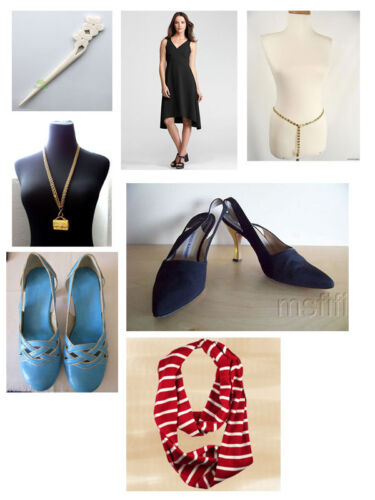 Vintage Belt: A pre-loved gold belt is an easy and affordable way to dress up or change up a little black, purple or alternatively-hued dress. When I travel for work or pleasure, I always pop a couple in my suitcase to add some evening pizazz to a daytime ensemble. They also make a phenomenal gift and you can find them in just about any price point.


Hair Accessory: Besides being an excellent stocking-stuffer, this sustainable hair stick is a quick and elegant way to create an easy up-do. Available in numerous designs, keeping a couple in your bag makes for a fab spontaneous look.


Infinity Scarf: I love the versatility of an infinity scarf. This candy striped, organic version adds festive twist to any outfit.


Little Black Dress: The one fashion staple that we all must have to get us through the holiday hustle and bustle is a LBD. Find endless options on eBay—with new & used organic cotton, wool or silk black dresses in every size and cut. Find one that accentuates your best assets and accessorize away. One dress can get you from holiday work parties straight through a toast-worthy new year. I found numerous Eileen Fisher organic basics, but a vintage Gucci sheath might be what the fashion doctor ordered.


Bold Necklace: A chunky necklace is an outstanding conversation piece that can add new dimension to your hard-working LBD. If your event calls for something more elegant, a vintage Victorian or Edwardian bauble can take the same dress in a different direction.


A Great Bag: Add a pop of color with an upcycled leather purse. I discovered this bright, fringed version in 2 different colors. I also have a marvelous black one that is my staple. A great bag is another way to raise your party game.


The Perfect Pumps: The perfect pump or platform is absolutely requisite when party going. I discovered my go-to Manolo Blahniks on eBay and when I did a search for more, I found numerous options. I also saw a slew of YSL heels and other used beauties. Another option is looking for shoes make from vegetable tanned leather, like Coclico, or sustainable vegan shoes like Form & Fauna.