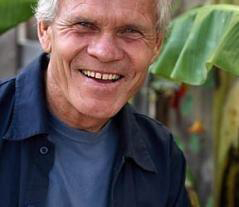 A Partnership That Reimagines The Way We Do Business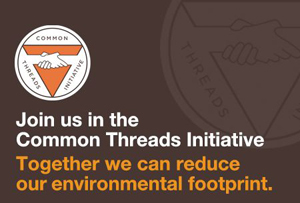 Each year our planet can produce a certain amount of resources and absorb a certain amount of use. My friend Annie Leonard calls this "nature's budget for the year." She points us to a group of scientists that keep an eye on this called the Global Footprint Network, and by its calculations, in 2012 we exhausted the annual budget on August 22, less than 9 months into the year. That means we are currently 150 percent above the capacity of our planet to replace essential "services" like clean water, clean air, arable land, healthy fisheries and stable climate. Our over-consumption is eating into the very ecological systems that all the world's economies – and indeed, all life – depend on. If that is troublesome, consider that by 2050, we'll be 500 percent above capacity unless we change how we make, use and throw away stuff. 
What to do? As a company, we at Patagonia try to make stuff that lasts a long time, so you don't have to replace it as often. We also try to make stuff that you can use for more than one thing, as well as stuff that doesn't quickly go out of style because it was made with timeless style. 
Even then, that only goes so far reducing the impact on the planet of the stuff we make and our customers buy and use. Thinking it through, we realized that was the key: we needed to partner with our customers so that mutually we were both taking responsibility for the full life of Patagonia products, and together working to minimize the impact those products have on our one and only planet. 
So we launched the Common Threads Partnership, and decided to organize it around language most of us already knew: the four "R's" of Reduce, Repair, Reuse and Recycle. Under each of these "R's" we then imagined the responsibilities that we, the creators of stuff, would own, and the responsibilities that you, the user of stuff, would own: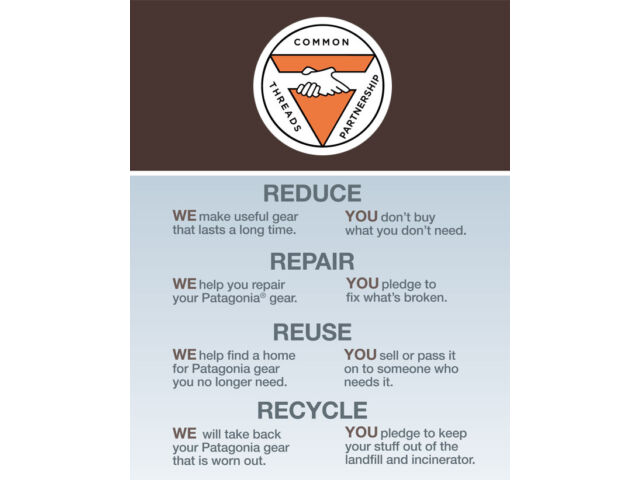 Some of these were unusual for a company to suggest to its customers. Under the "R" of reduce, for example, we knew in our hearts that one of the most important ways to reduce the impact of stuff on our planet is for all of us to learn how to get by using less stuff. It took awhile to get our teams inside the company aligned around the idea, but once we had that we launched an effort to convince our customers not to buy our stuff if they don't really need it. 
We also had to think through the "R" of "Reuse". How could we encourage our customers to take from their closets all the used but serviceable Patagonia gear they weren't using, and put it in the hands of someone who could use it? The answer was eBay—the biggest market on the planet for used stuff. We got ahold of them, and they enthusiastically accepted our proposal to partner with us on Common Threads. The result: if you go to eBay to sell a used Patagonia product and you take the Common Threads Pledge, then your Patagonia product is listed in the special Common Threads storefront on eBay, and for no additional charge, it also appears on the "buy-used" section of Patagonia.com. 
Finally, we ask you to take Common Threads Pledge so you then join us committing to the fifth "R", to…