CNG Car Buying Guide
Posted on Jan 21, 2015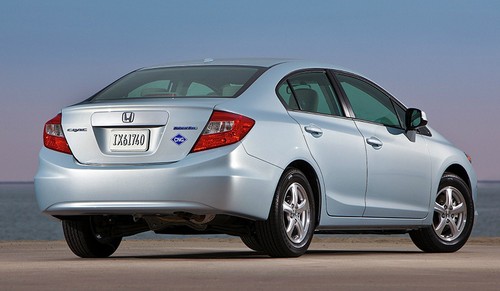 Is a CNG Vehicle Right for You?
Compressed natural gas is a cleaner and less expensive automotive fuel than gasoline, and it generally comes from domestic sources. When considering the purchase of a CNG vehicle, owners should first determine whether convenient and reliable CNG fueling is available nearby.
Natural gas is normally used in the U.S. to generate electricity, heat homes and businesses, and as a component in a variety of industrial processes. In the United States, a very small amount of natural gas—a fraction of a percent—is used to fuel vehicles. In the past, CNG vehicles have been used in private and government fleets, but individuals are also increasingly buying these vehicles.Owners of natural gas cars love them, because CNG is cheaper than gasoline—and some states grant solo CNG drivers access to carpool lanes. 
Are There Drawbacks To Consider?
Natural gas has lower energy content than gasoline—meaning reduced range between fill-ups.  So, you'll need to return to a CNG fueling location more often, and those stations can be hard to find, and have more limited hours of use.
In addition, because CNG has less energy content than gasoline, cars powered by natural gas can be slow pokes.   In some cases, CNG cars are tuned for efficiency—after all, that's the main idea behind them—rather than for performance.  This tuning earns a higher EPA efficiency rating for CNG cars, but make them sluggish on fast-moving roadways.
Finally, CNG is a gaseous fuel stored in relatively large high-pressure tanks, usually stored in a vehicle's trunk.  Before buying a CNG car, take a careful look at trunk space and evaluate if it will meet your cargo needs.
What Are the Top Models?
For the past several years, there's been only one new U.S. car that runs on CNG: the Honda Civic Natural Gas (formerly the Civic GX).  So, our list of top models is short—although there's usually a good selection of CNG vehicles on eBay, most commonly vans and trucks converted from gas vehicles to run in government and corporate fleets. 
The Civic Natural Gas offers all the reliability, styling and build-quality of the conventional Civic, but with a drivetrain capable of using CNG as fuel.
Consumers who want something with more utility than the Civic should be encouraged that General Motors is now offering the Chevrolet Silverado and GMC Sierra extended-cab pickups with six-liter V-8s that can run on either gasoline or natural gas. GM estimates that these workhorses could save drivers $6,000 to $10,000 over three years on the road.
Where Do I Get Fuel?
Compared to ever-present regular gas stations, there are only about 1,000 locations offering compressed natural gas. California has more than 200, but other states only have a handful. CNG drivers must remain aware of their range and distance from a CNG station and/or be willing to install home refueling.  Consult with the Department of Energy's map of CNG fueling locations to see if there's an accessible spot near you.
How Much Does the Fuel Cost?
As petroleum prices erratically jump up and down and up again, it's tempting to look at compressed natural gas as an economic alternative. Buyer beware: the math is tricky.
Since CNG is normally sold as a gas rather than a liquid, it isn't measured in gallons, but can be converted on an energy basis that equals a gallon of gasoline. The term used for this conversation is GGE, or "gallon of gasoline equivalent."
In periods when the national average for a gallon of gasoline is about $3.00, prices for CNG in various markets across the United States can run around $2.00 per GGE. While a one-dollar price advantage sounds attractive, CNG vehicles have lower fuel efficiency than hybrid vehicles. Civic Natural Gas, for example, averages 31 mpg, while a Civic Hybrid is rated at 45 mpg. So while a GGE of CNG is cheaper, the Civic Natural Gas needs more fuel to operate, and therefore the cost per mile can be the same or higher.
Is It Green?
Compared to a standard car, natural gas vehicles can reduce exhaust emissions of carbon monoxide by 70 percent; oxides of nitrogen by 87 percent; and carbon dioxide by 20 percent.
The Honda Civic Natural Gas isn't just a cleaner alternative to gas guzzlers, it's as green as the zero-emission Nissan Leaf, according to the annual survey by the energy efficiency group ACEEE. Honda's car is a dark horse among much more celebrated hybrids and battery electrics, but it quietly racks up high scores from ratings groups and wins awards—among them Green Car Journal's Green Car of the Year award.
But the dark horse has a somewhat dark secret, according to some environmentalists.  Hydraulic fracturing (or fracking)—the process by which CNG is extracted—has become extremely controversial in recent years. The 2010 documentary "Gasland" brought national attention to a host of pollution and safety issues that have been raised in the local communities that surround fracking sites, leading many environmental advocates to call for an outright ban on the practice. In 2010, the New York state legislator passed the first of several moratoriums banning fracking until its dangers could be more fully studied and safeguards imposed.
In 2011, the EPA admitted for the first time that fracking chemicals might be responsible for contaminating ground water near a site in Wyoming. Former EPA Administrator Lisa Jackson admitted that more research needs to be done into the chemicals and procedures used in fracking, but said she's fully confident that the practice is "perfectly capable of being clean," once these potential dangers are more fully understood.